5 septembre 2017
2
05
/

09
/

septembre
/

2017
20:37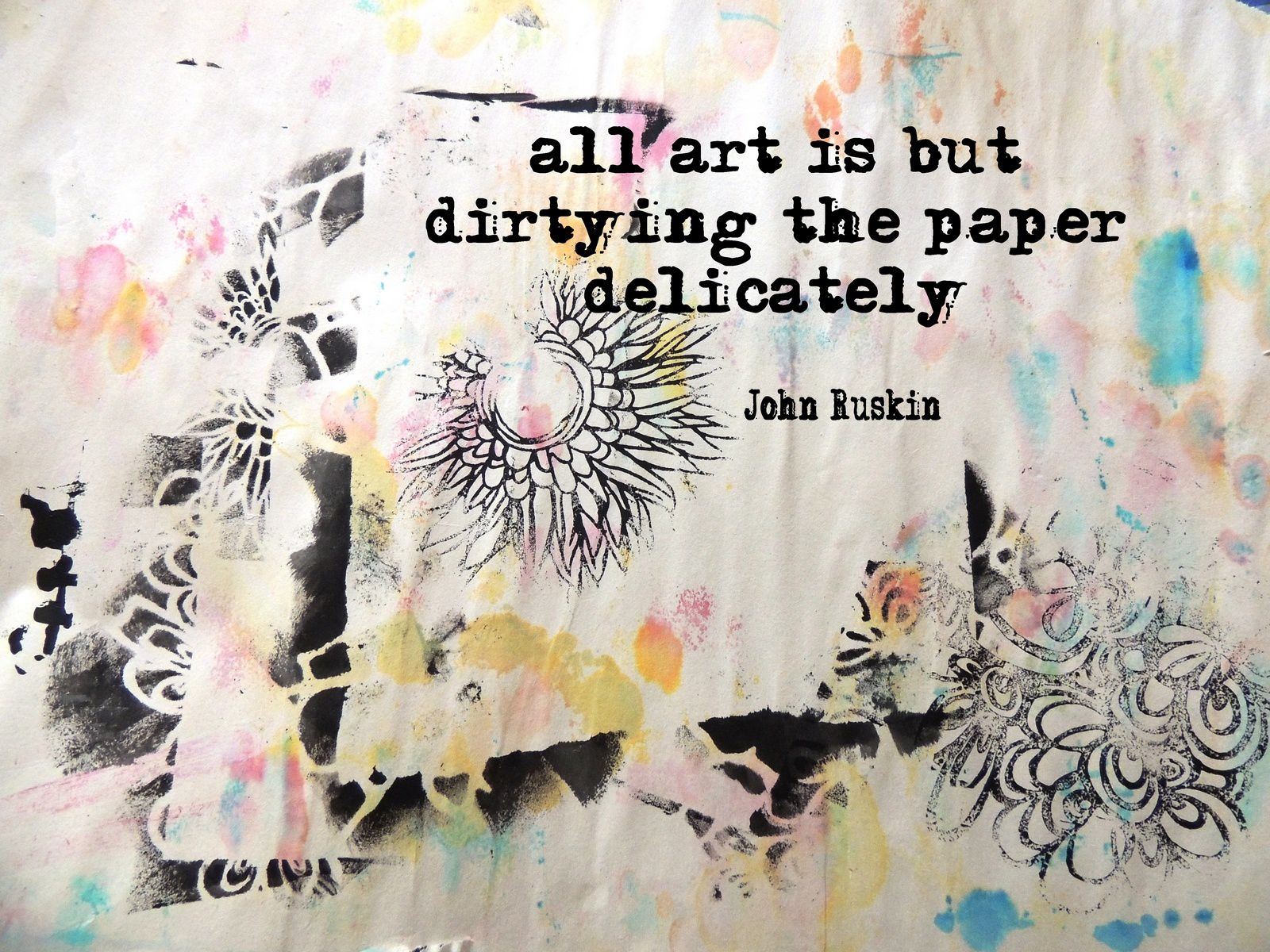 La citation veut dire: " tout art n'est que maculer le papier délicatement".... Et je l'ai fait! Plus ou moins délicatement ;) Et dans ce déroulement j'ai obtenu du super 'underpaper'; ce papier qui a protégé ma table. Je vous montre quelques manières comment préparer ces fonds de pages.
And that's what I did: I 'dirtied' quite some paper and I ended up with some yummy underpaper as well. I'll explain some of the different techniques I used.
Comme vous voyez dans mes images j'ai utilisé de l'encre. J'ai badigeonné quelques couleurs à travers une variété de pochoirs. Puisque l'encre est très liquide les empreintes de pochoirs ne sont pas très nettes, mais c'est exactement ce que je désire. Le papier que j'ai utilisé est du papier qu'on trouve dans les boîtes à chaussures, donc très fin et idéale pour collage ensuite.
As the photos show I used ink and some stencils to get marks on the paper. I used paper you find in shoeboxes, so very thin paper and ideal to use in collage next. The stencil marks are not very precise as the ink is so liquid and seeps under the stencils, but it is exactly what I was looking for.
Après avoir appliqué les couleurs d'encre, j'ai tamponné façon aléatoire avec ce que j'ai sous la main. Sur la deuxième photo vous voyez une partie de ma collection de tampons fait main pour faire des marques et motifs et ensuite j'ai peint par dessus avec les encres. Puisque le papier est très fin ça donne du résultat intéressant recto et verso. Clic sur la photo pour mieux voir les détails.
After I coloured the papers, I stamped all over the surface with anything I could lay my hands on. On the second photo you can see a part of my collection of homemade stamps. I stamped first and then painted over the papers. Because the paper is so thin it gives interesting results on both sides. Click on the photo to see it bigger.
Ensuite j'ai pris un rouleau mousse et de la peinture acrylique mais j'ai utilisé le même papier fin et quelques pochoirs pour obtenir des dessins. Pour nettoyer le rouleau rouge j'ai roulé plusieurs fois par dessus le bleu foncé et ça donne un aspet intéressant.
Using the same paper and some of the same stencils I went over to acrylics and a soft brayer. To clean the red paint off I just gave some strokes over the the dark blue... interesting!
Je continue avec de la peinture acrylique mais je change l'outil: un pinceau large et du papier dessin. J'ai cherché des gros taches de couleurs et ensuite j'ai fait quelques marques par dessus. Pour un projet ensuite tout ce couleur peut donner des idées.
I continued with the acrylics but changed the tools: I used a big brush and drawing paper. I wanted to put several colour fields together on the page and then doodle on top. This could be good collage fodder.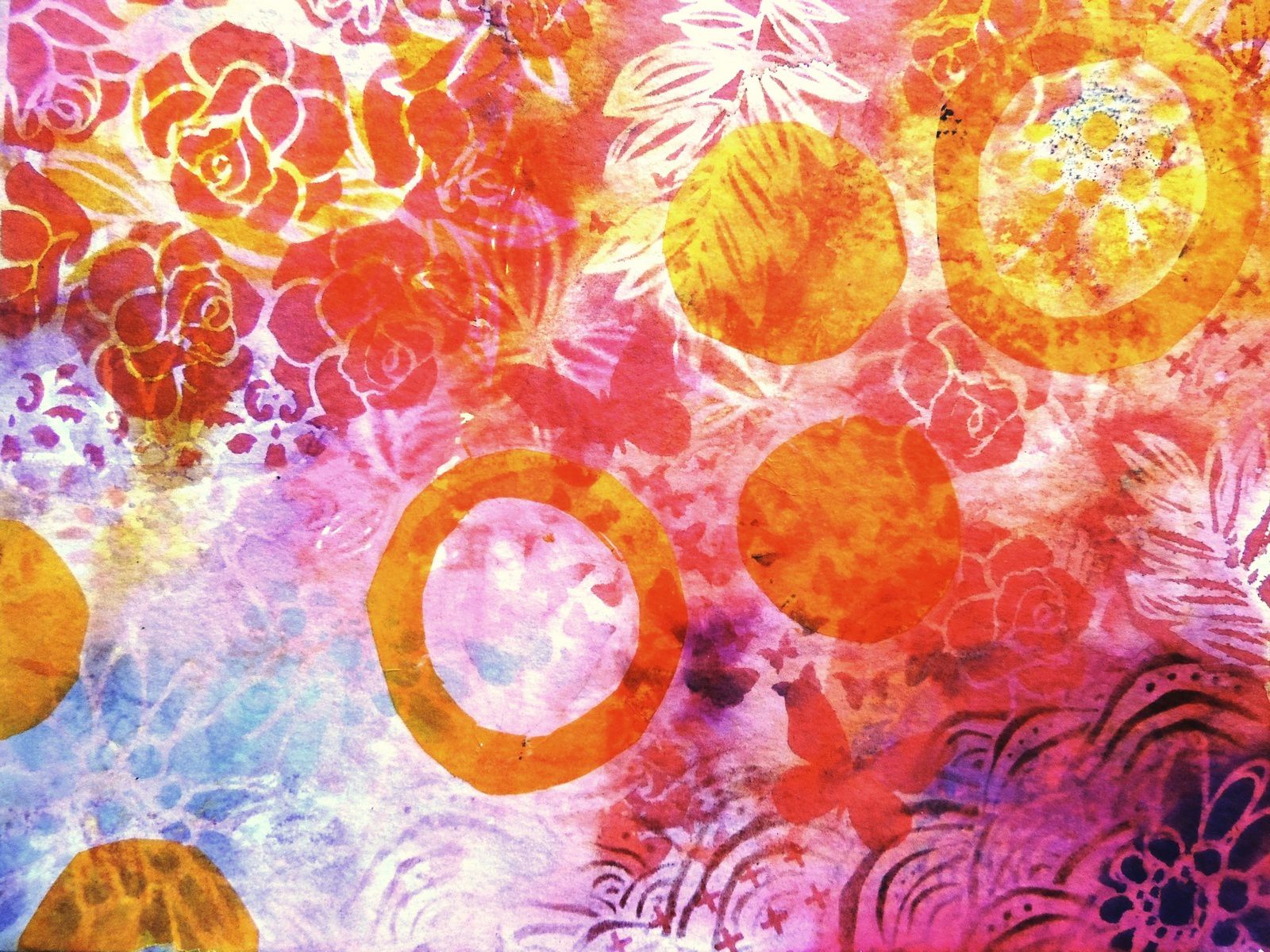 Après j'ai pris une grande feuille du papier aquarelle assez épais, de l'encre distress et quelques pochoirs. J'ai rempli la page n'importe comment seulement faire attention que les quatre parts de la feuille contiennent des motifs différents.
Next I took a big sheet of watercolour paper, distress ink and stencils. I filled the page withour paying attention to a special lay-out but I made sure that there was a variety of marks all over the page.
J'ai coupé la feuille en quatre pour fabriquer des cartes..... je vous les montre la prochaine fois.
I cut up the page in four to make cards ....I'll show you these cards next time.