6 mai 2017
6
06
/

05
/

mai
/

2017
15:21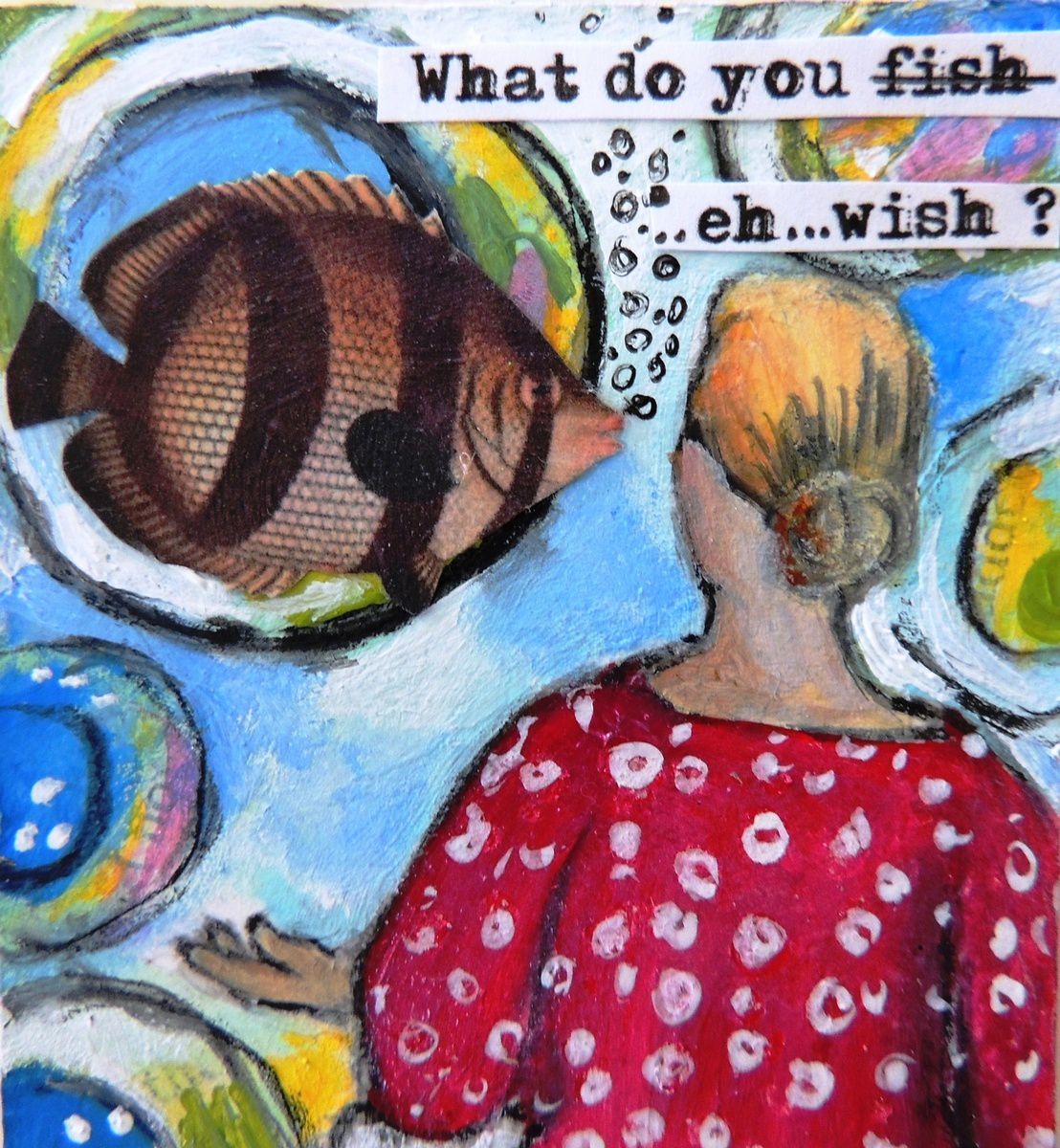 Voici le résultat de mes cartes ATC pour le mois d'Avril qui sont arrivées au port probablement maintenant. J'écris mes articles en deux langues mais cela ne veut pas dire que je traduit littéralement l'un pour l'autre texte. Le titre en anglais par exemple ne veut pas dire que je suis en pleine forme (que je suis d'ailleurs) mais c'est une phrase que disent les enfants en jouant un jeux de cartes: pioche une carte! Alors je vous laisse piocher la carte que vous aimez le plus et vous pouvez me le dire dans les commentaires :).
Here's the result of my ATCs I sent for the April exchange; they must have arrived by now so I can show them. I write in two languages but one text or title isn't always the straight translation of the other. The french title here means that one is energetic and in great shape..... well I am. I thought of the English title because it goes so well with the card games I often play in class. I invite you to "go fish" and pick a card of your liking. I'm not fishing for compliments but it is sometimes encouraging to know what kind of thing my visitors favourite.
Pour mes cartes j'ai utilisé mes techniques et matériel favoris. J'ai acheté deux nouveaux pinceaux très fins pour faire mes peintures ici mais qui sont génials pour la calligraphie ce que je pratique aussi. J'ai imprimé une image 'freebie' en petite taille et je l'ai découpé avec ces ciseaux pour les plus petits détails.
For these cards I set about using my favourite techniques and material. I bought real fine brushes to do the painting and these are also great for handwriting which I am practising. I copied a freebie, the fish, which I printed in a very small size and cut it with these scissors for the finest details.
Ces deux là sont fait de la même façon. J'aime toujours ajouter une petite phrase qui provoque une idée d'un histoire.
These two have something in common with the circles and the sentence which invites to imagine a little story behind them.
Avec ce duo je me trouve comme un poisson dans l'eau: les empreintes gelli et les tampons. Le titre 'gone fishing' veut dire quelqu'un qui est parti mais pas forcément pour aller à la pêche. Ca veut dire que quelqu'un s'est échappé des routines et des contraintes de sa vie. L'expression a ses origines dans une chanson par Louis Armstrong et Bing Crosby dans les années 1940 et 1950. Le titre 'le bluff'' est ma traduction d'un mot Hollandais dont je ne trouvais pas vraiment une traduction convenable; c'est le mot 'visserslatijn' utilisé quand quelqu'un exagère de la réalité pour se vanter..... l'histoire devient de plus en plus grandiose quand il est à nouveau raconté.
With this pair of cards I feel like a fish in the sea as I enjoyed using my gelli prints and stamps. 'Gone fishing', meaning taking a break from routine, getting away from the humdrum of life. It is an expression that was first found in a song by Louis Armstrong and Bing Crosby in the 40s and 50s. The title 'le bluff' is a translation of the dutch word 'visserslatijn' which means 'tall talk', the way someone boasts and brags about something. Stories like that get bigger and bigger as they are told again.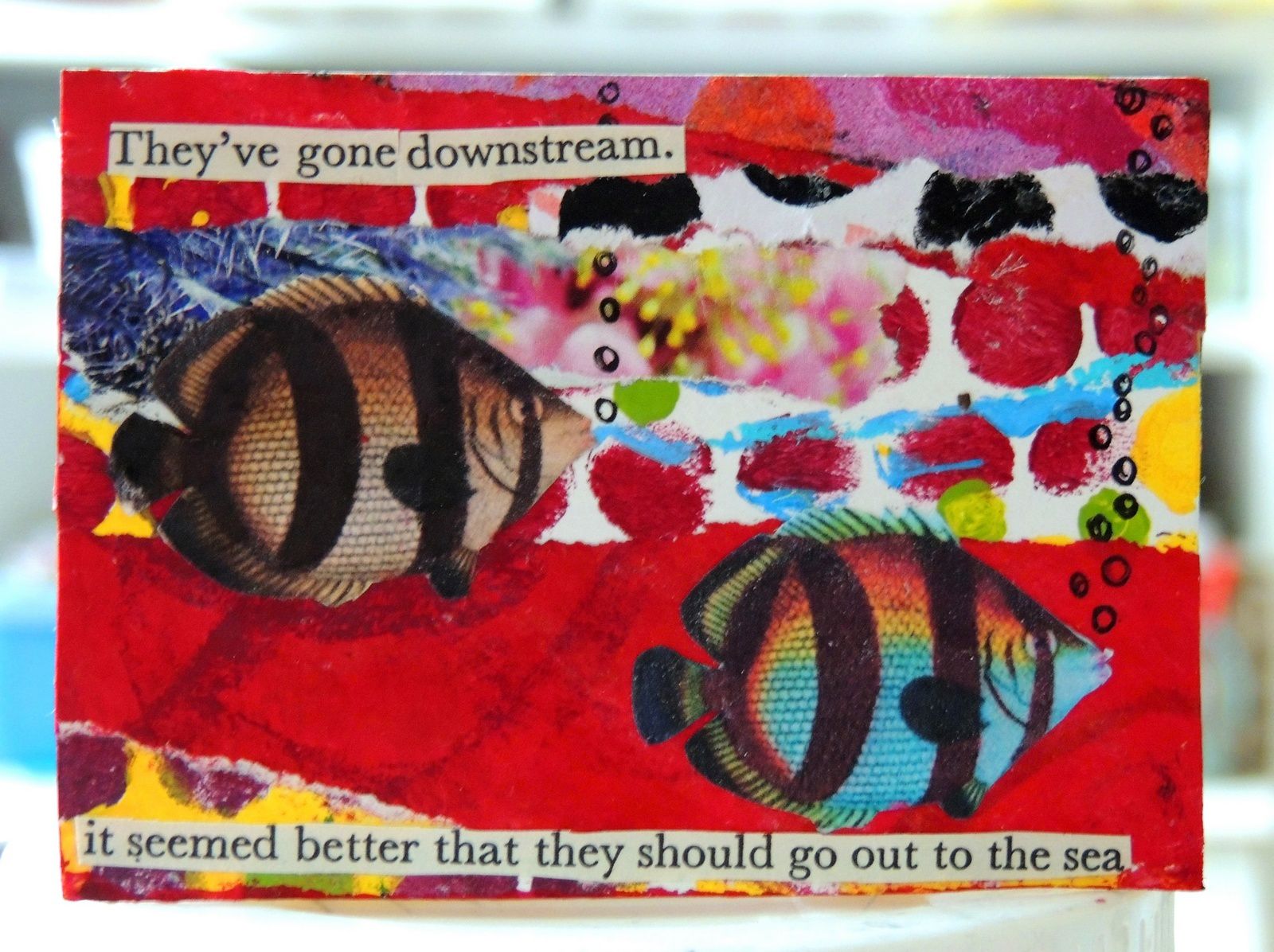 Cette carte et les suivantes ne sont pas allées pour une échange. Je les ai fait pour le simple plaisir de les faire et pour faire des essais pour quelque chose plus grand peut être. Ce que j'ai trouvé amusant est l'expression "I have other fish to fry" qui est traduit par "j'ai d'autres chats à fouetter" une expression qui ne me va absolument pas car je ne ferai pas mal à une mouche même! Cette carte est faite avec les restes de papier sur ma table et le 'freebie' imprimé deux fois (pour un j'ai joué avec les couleurs). J'ai beaucoup aimé la trouvaille de la phrase.....'going downstream" se laisser aller par le courant, c'est plus facile de 'going upstream", d'aller contre le courant, n'est ce pas? "going out into the sea" aller vers la mer, la grande espace, aller vers plus de possibilités....
This one and the following cards didn't go for exchange. I decided to stop the monthly exchange for a while because 'I have other fish to fry'. (funny expression which is translated in french by: 'I've got other cats to whip'...horrible!) I love making these little cards though and often they are a try-out for something bigger. I made this card with some scraps of painted paper and the freebie (for one I played with the colours before printing it out). I just loved that I opened an old book and my eye fell upon the sentence: "going downstream" !! it is so much easier than going upstream isn't it?! "going out into the sea" going where there is more space, more possibilities......
Ces cartes sont faites avec l'inspiration par Elke Trittel, une artiste favoris pour moi. A nouveau j'a fait du collage avec les restes de papier et de la peinture.
Que pensez-vous de ces cartes?
http://artdelafibrite.canalblog.com/
These cards were made having been inspired by Elke Trittel, one of my favourite artists. Again: I used scraps of gelli prints and a little paint.
Please tell me what you think?