10 août 2017
4
10
/

08
/

août
/

2017
08:56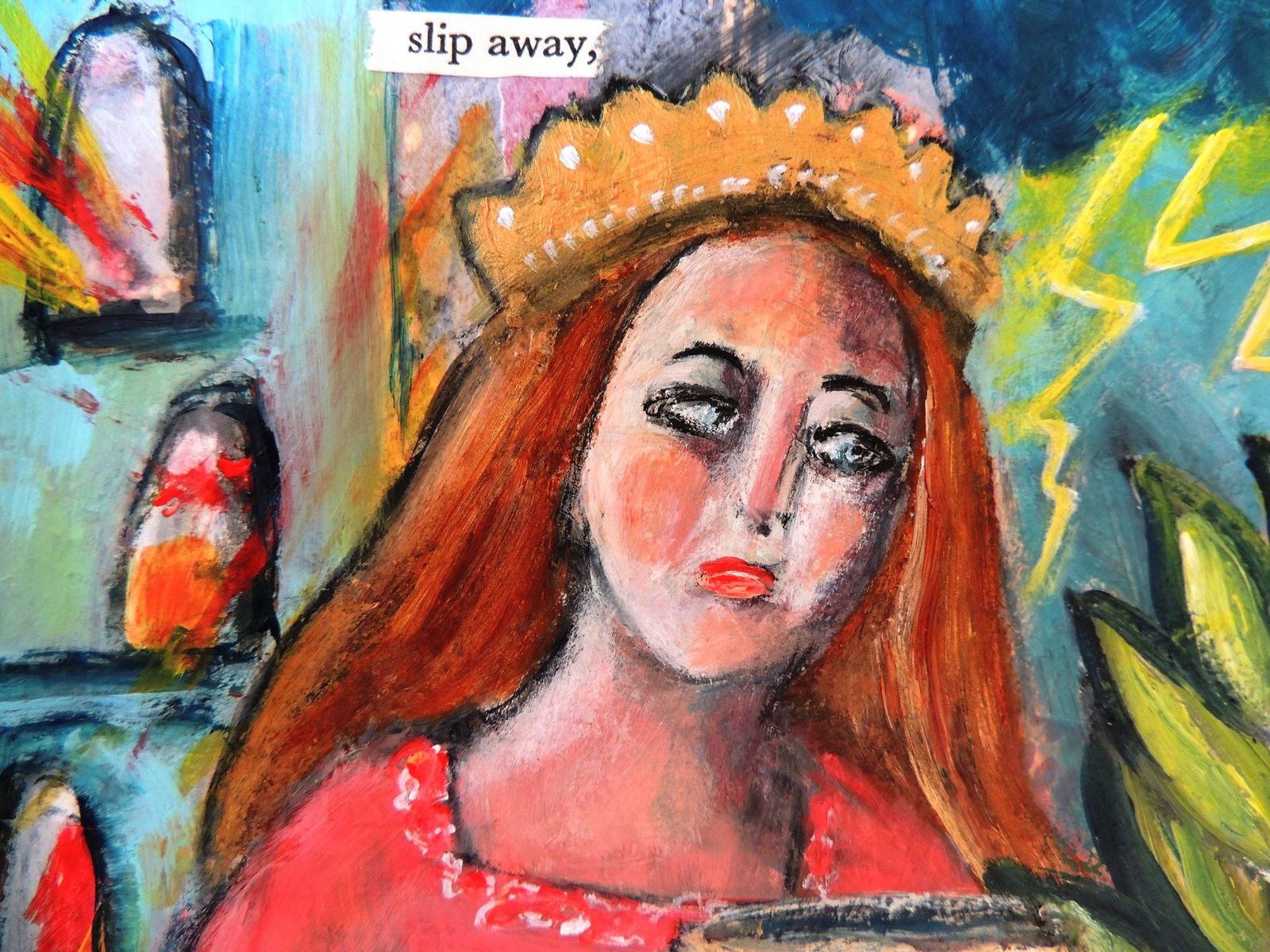 Dans mon journal je documente encore quelques souvenirs de mes vacances. C'est ainsi que je voyage une deuxième fois.
J'ai fait une page sur Sainte Barbe dont j'ai appris son histoire quand nous avons visité une chapelle à Faouët dans le Morbihan-Bretagne.
In my journal I am busy documenting about my holidays in Brittany. That way it's like travelling a second time.
I painted a page about Sainte Barbe whom I learned about when we visited her chapel in a small village, Faouët, in Brittany.
Elle est toujours représentée avec le tour dans lequel son père l'avais emprisonné. Elle avait refusé de marier l'homme que son père avait choisit pour elle. En plus elle est devenue chrétienne ce qu'il ne tolérait pas. Son tour, son prison, n'avait que deux fenêtres mais par miracle elle avait créé une troisième, symbole de la trinité. Furieux son père a mis feu sur la tour mais Sainte Barbe a pu échapper sans blessure. A nouveau elle était capturé par son père......
D'autres symboles représentés autour d'elle sont la palme de martyr, un calice, un livre, une couronne et parfois une plume de paon, symbole de l'éternité.
She is always depicted with her tower in which she was imprisoned by her father. She had refused to marry the man her father had chosen for her. Instead she converted to christianity against the will of her father. She was locked in a tower with two windows but by miracle she had created a third as symbol of Trinity. Furious her father had set fire onto the tower but Sainte Barbe escaped. Her father managed again to capture her.....
Other symbols represented around Sainte Barbe are the palm of martyrdom, a chalice, a book, a crown and sometimes a peacock feather to symbolize eternity.
Après maintes tortures son père, désespéré qu'elle n'obéissait pas, l'a décapité, mais aussitôt était frappé par la foudre. On dit alors que la sainte contrôle feu et orages. Elle est devenu le saint patron des pompiers.
Une autre histoire raconte qu'un jour un seigneur s'est trouvé dans une violente orage. Il a prié sainte Barbe de le protéger et il a promis de construire une chapelle à son honneur. Il a survécu ce terrible orage et a tenu sa promesse. Il a donc construit la chapelle à Faouët.
(Clic sur les images pour les voir plus grandes.)
After cruel tortures saint Barbe held on to her faith. Her desperate father beheaded her for that, but straight after he was struck by lightning and killed. It is then said that saint Barbe controls fire and lightning. She has become the patron saint of the french firemen.
Another story tells of a lord stuck in a violent storm who prayed sainte Barbe to protect him from lightning and the falling rocks around him. He promised to build a chapel in her honor. He survived this ordeal and did build the chapel as promised on the spot which was in Faouët.
(Click on the pictures to see more details.)