8 octobre 2017
7
08
/

10
/

octobre
/

2017
14:24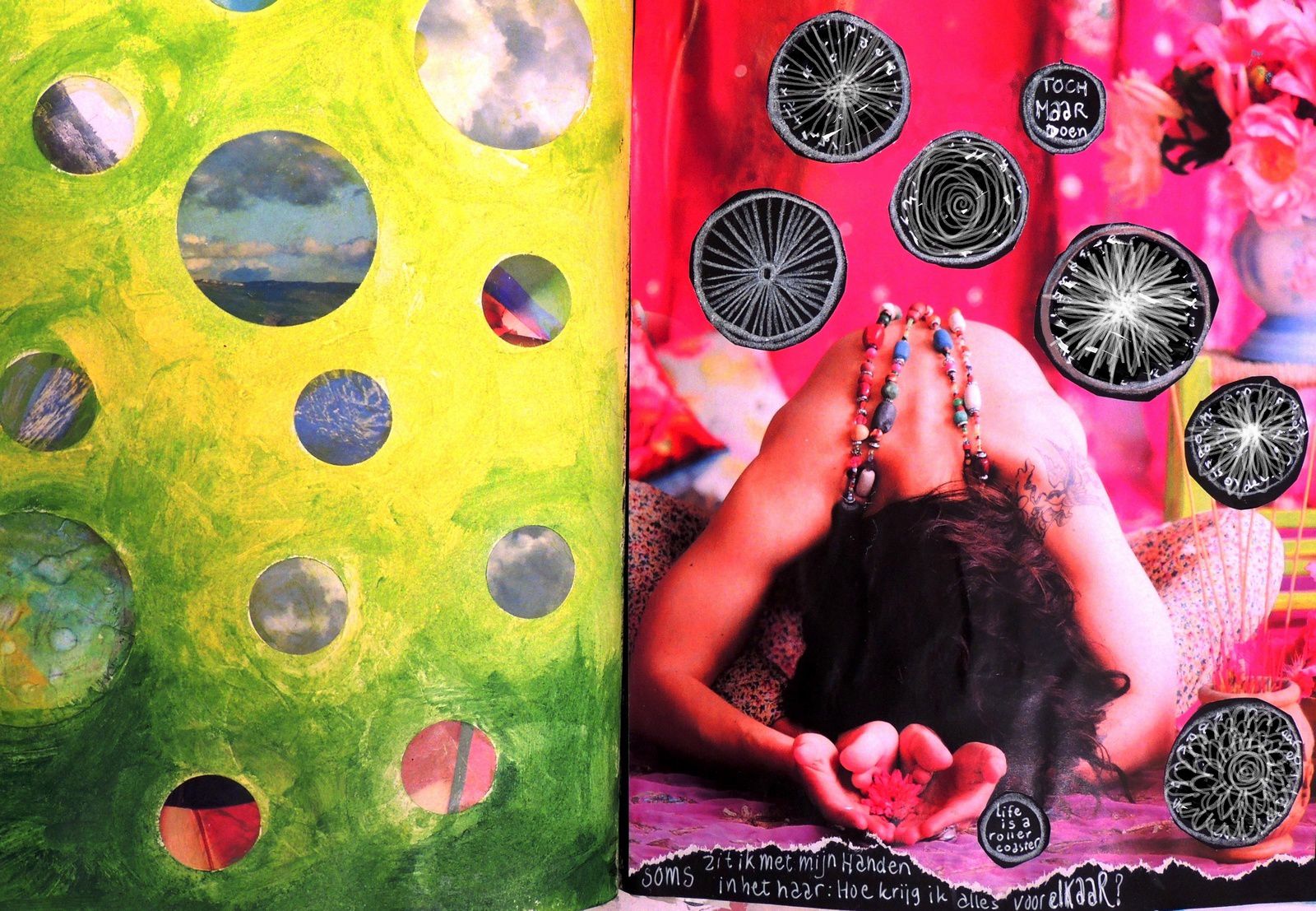 Il était temps pour le blog. J'avoue que c'est plus facile de poster quelque chose sur Facebook, mais ce n'est pas tout à fait pareil. Ici j'arrive à vous montrer plus et expliquer comment je continue mon voyage dans le monde de artjournaling et mixed media.
It was about time for a new blog post. I admit that it is a lot easier to post something on Facebook, but it isn't quite the same. Here I can explain better how one step led to another and how I continue on my journey in artjournaling and mixed media.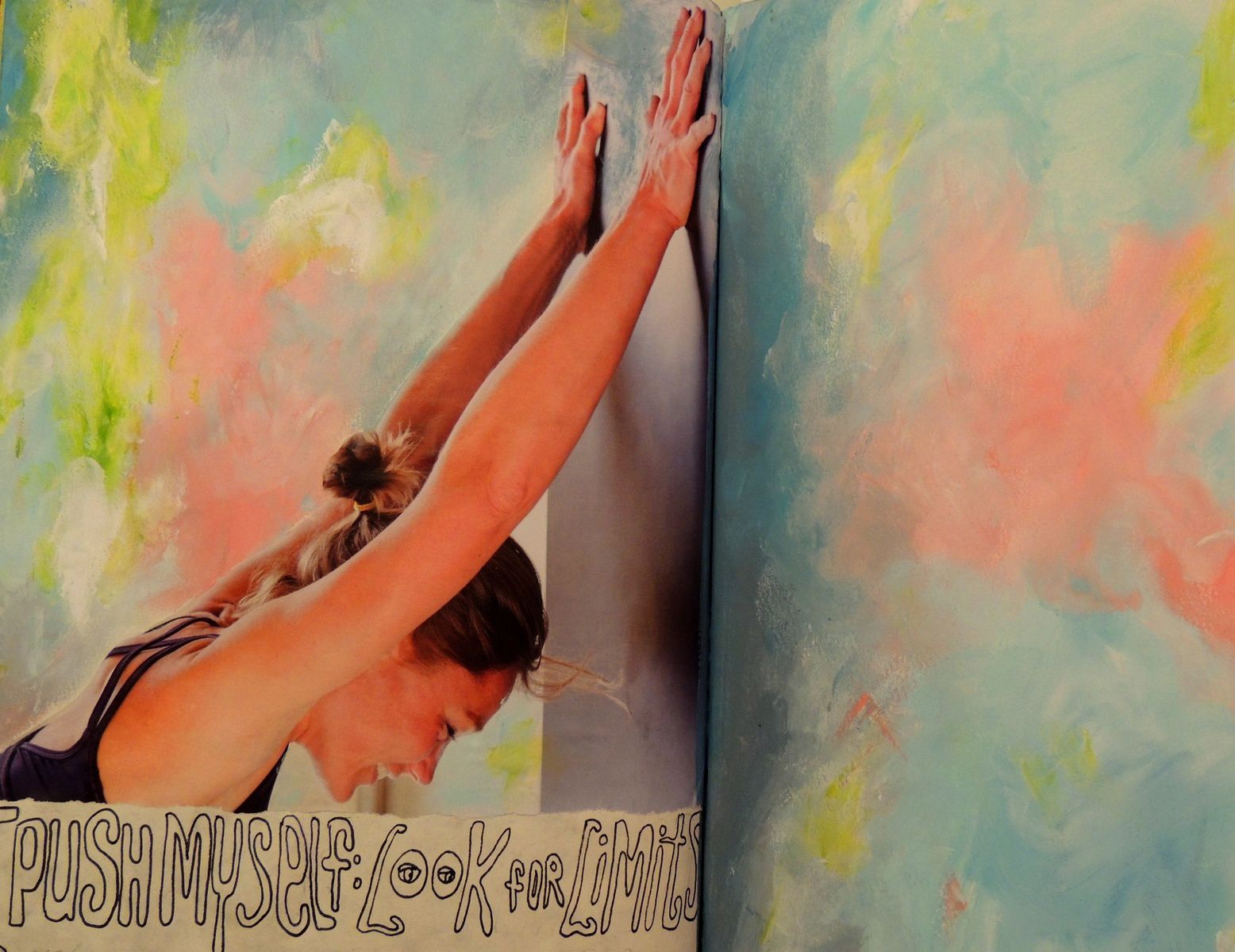 Dans mon journal images et texte racontent comment j'essaie de trouver de nouveaux chemins. Parfois il faut sortir de ma zone de confiance. Je me dis qu'il n'y a pas de limites, il faut simplement les pousser.
In my journal text and pictures tell about how I try to find new routes to take. It makes me step out of my comfort zone. I tell myself there are no limits, they just need te be pushed.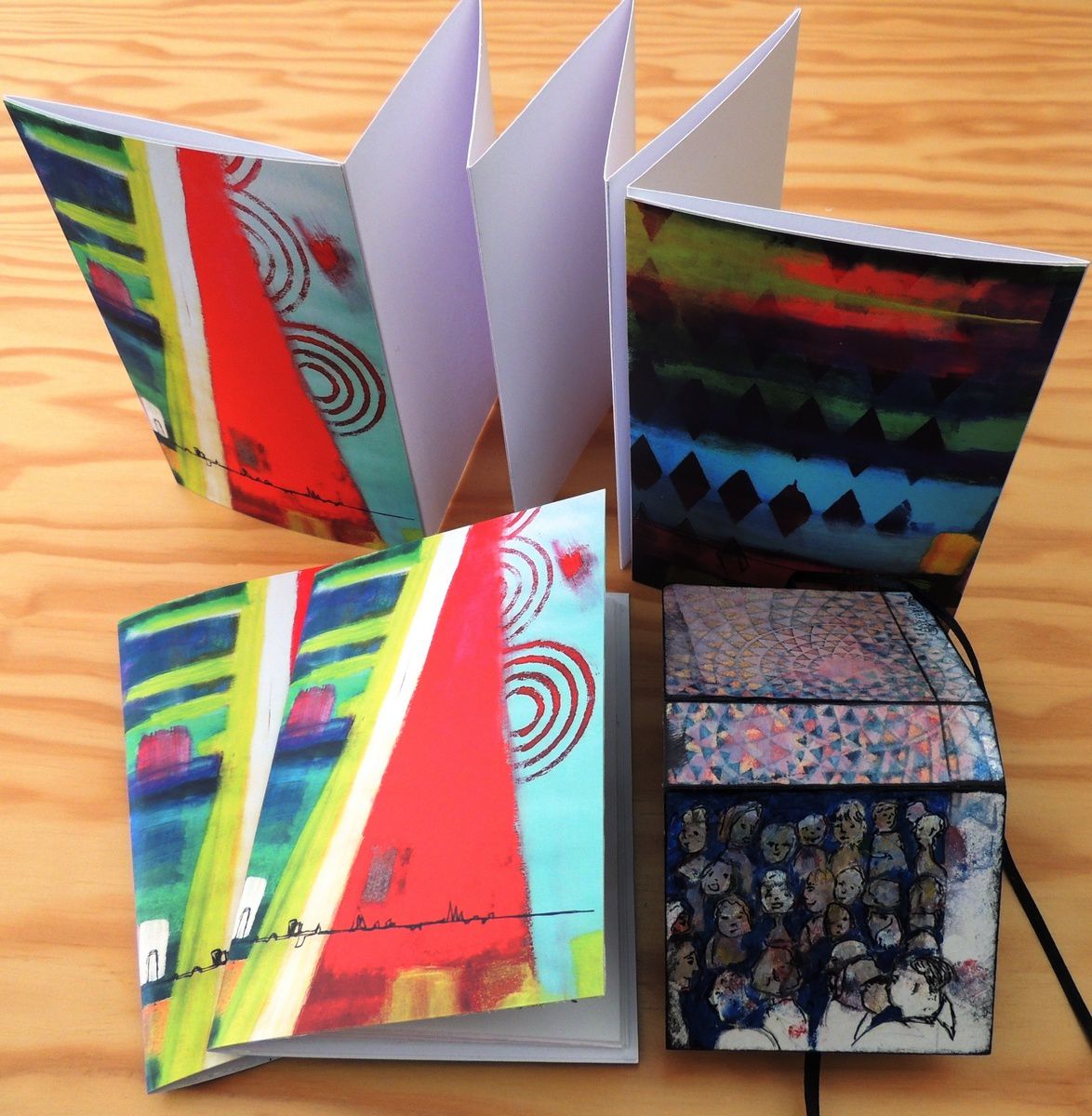 Je suis dans la fabrication de quelques carnets avec du papier imprimé de mes propres créations.
I am right now busy making some booklets and notebooks from printed paper of my own art work.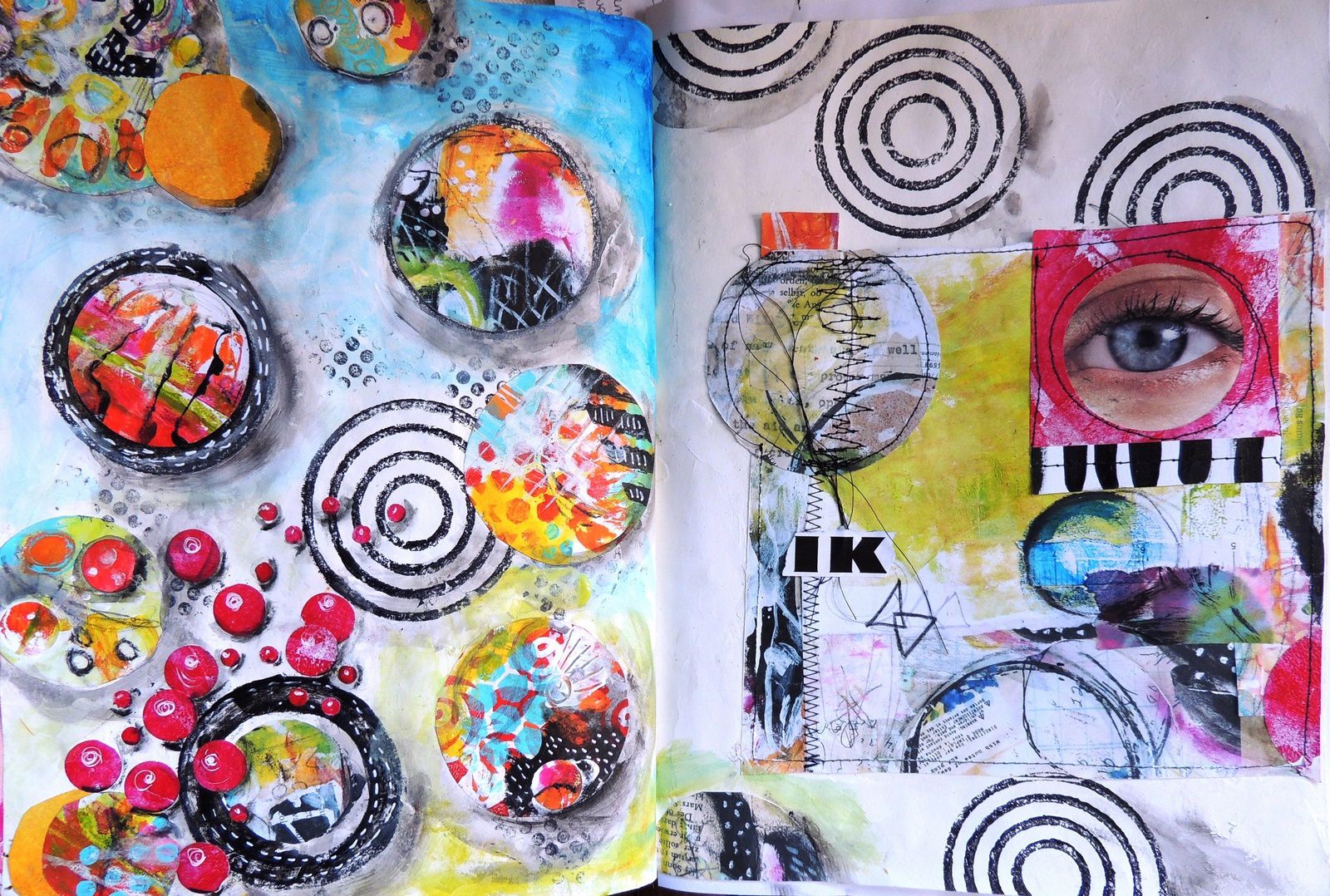 Et pourquoi pas me répéter? Cette page dans mon journal a du potentiel.
And why not repeat myself. This page in my journal has the potential.
Je l'avais imprimer sur un t-shirt et je le porte aujourd'hui avec plaisir.
I had it printed on a t-shirt and I'm happily wearing it today.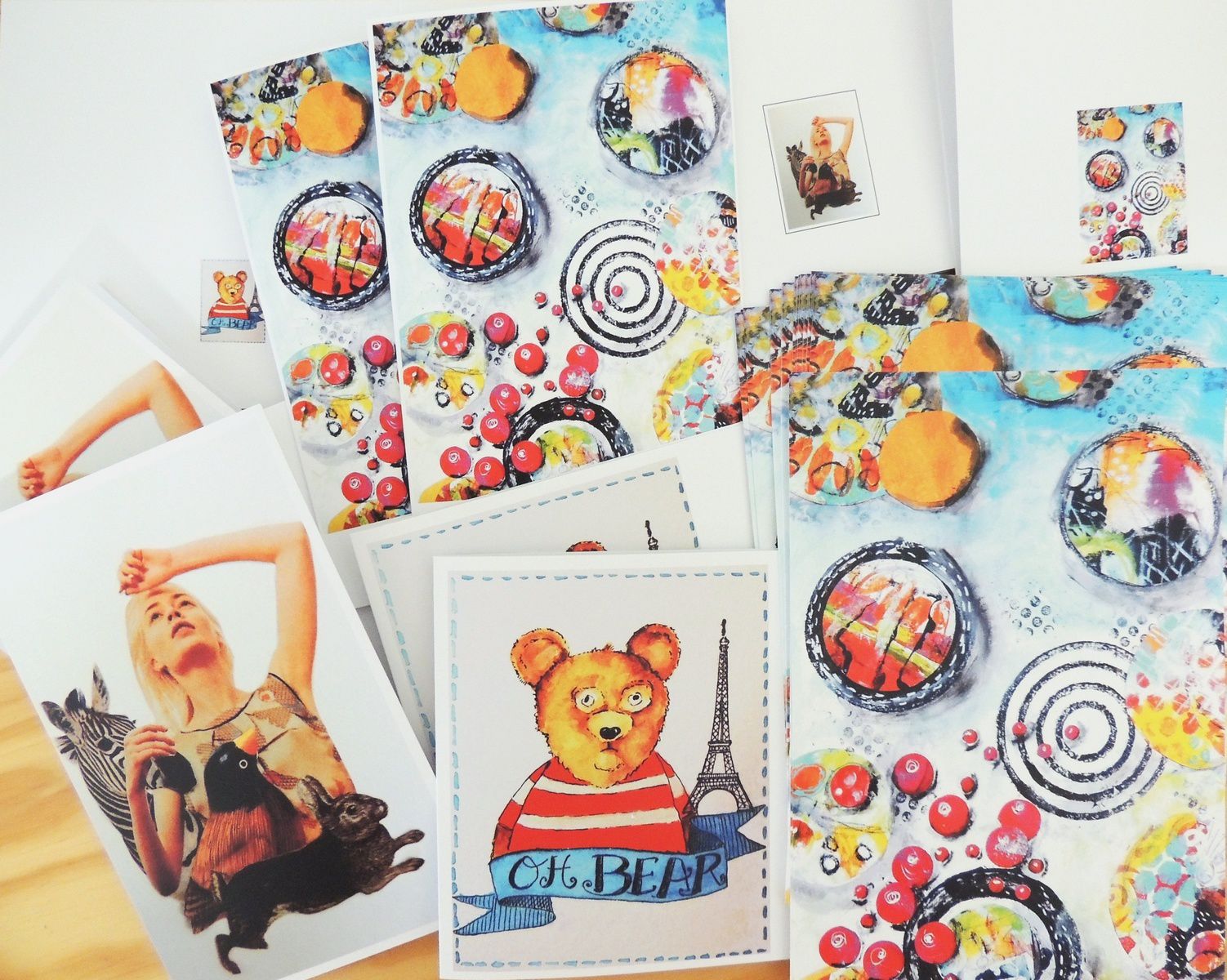 Je n'exagère pas tout de suite donc j'avais imprimé quelques modèles de mes créations sur cartes mais en petit nombre. J'ai voulu montrer une carte aquarel, une carte collage et une avec ma page de journal. Notez que sur le dos de chaque carte l'image retourne en tout petit. J'ai aussi commandé des 'flyers' ce qui arrivait en nombre de cinquante. Ce papier beaucoup plus fin se permets pour faire des collage et pourquoi pas une carte en plus.
I don't go over the top so had some other creations turn into cards in small numbers for a start. I want to show a collage, a watercolour card and the journal page as examples. See how on the back of each card the picture is repeated in a small size. I also had some flyers printed which came fifty in a pack. The much thinner paper can be used as collage paper.