29 septembre 2018
6
29
/

09
/

septembre
/

2018
22:02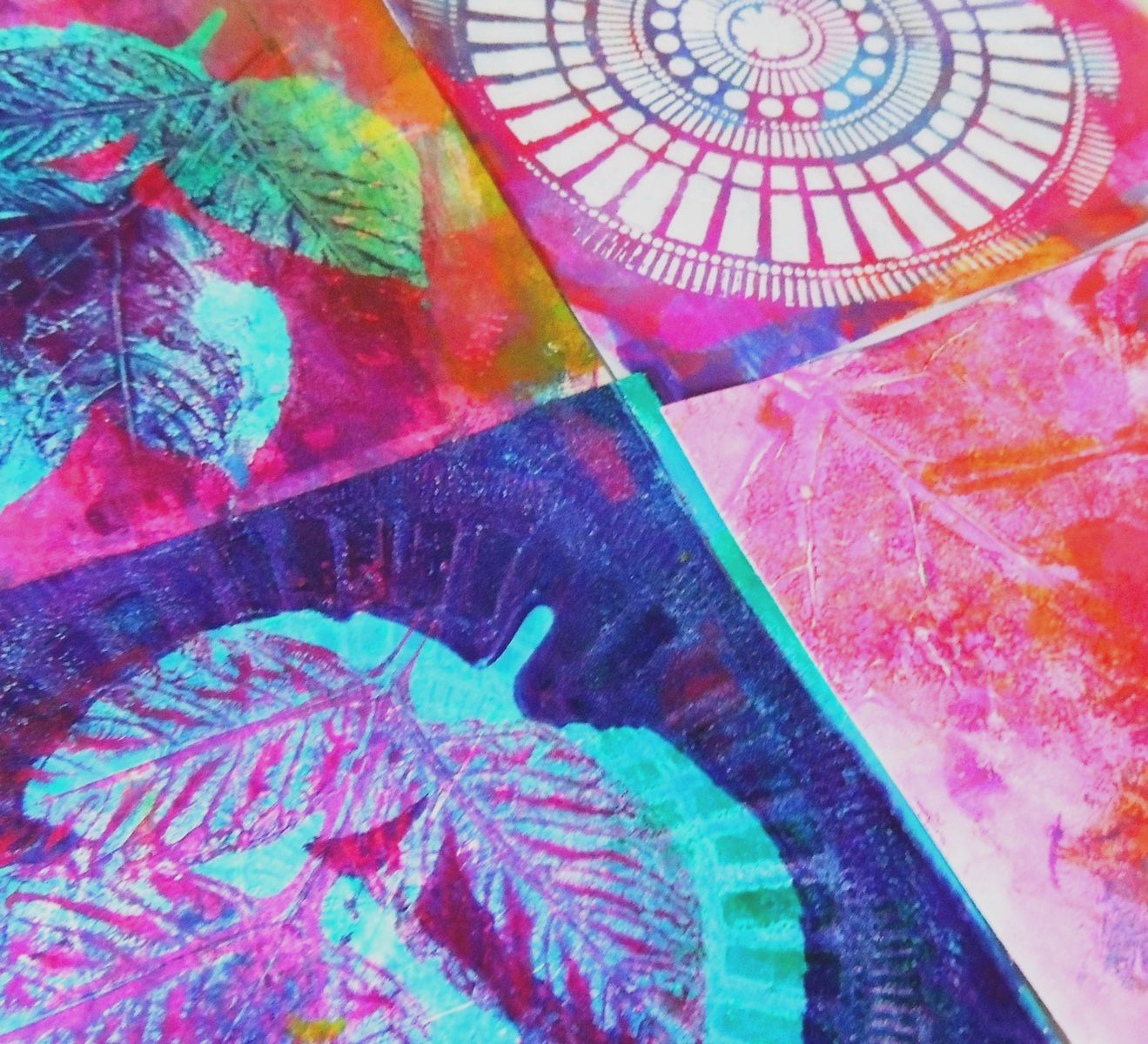 Quand je parle de mon gelli plate je dis que je fais des empreintes, mais le mot impression est aussi correct. Le dictionnaire dit:" Procédé de reproduction par pression d'une surface sur une autre qui en garde l'empreinte."
When I talk about my gelli plate I tell you that I make prints, but the word impress is also correct. The dictionary says: "make a mark or design on (an object) using a stamp or seal.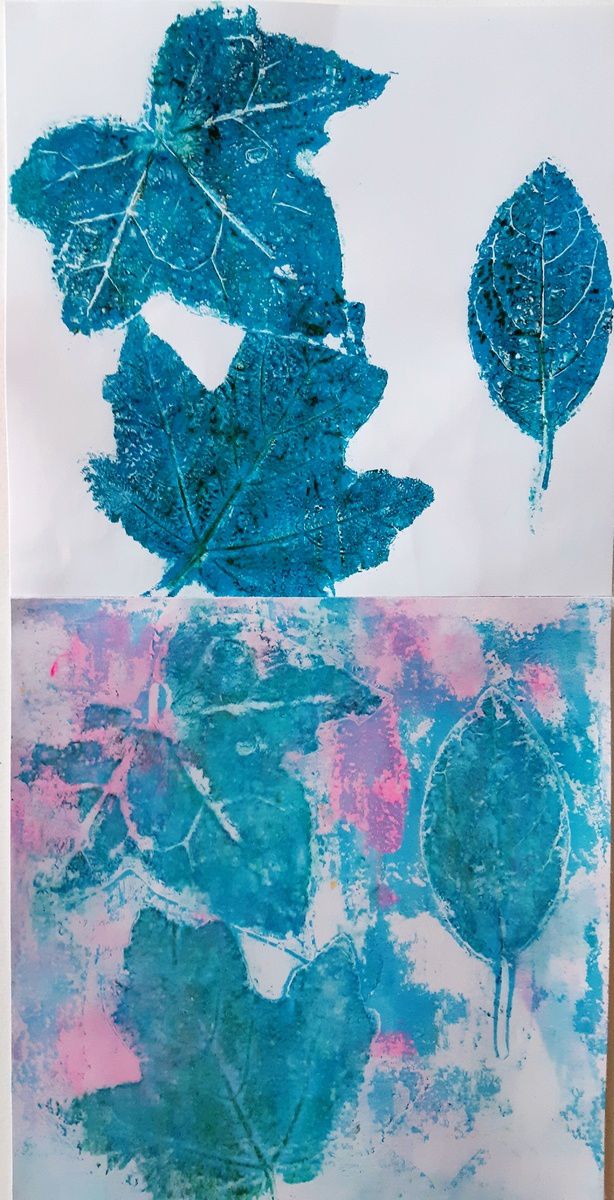 Et c'est exactement ce que nous avons fait, ma jeune voisine qui adore faire de l'art et moi! Je l'avais introduit dans le magie de gelli plate et comment faire des empreintes avec des feuilles du jardin. Je l'ai appris la leçon numéro un: avec ce technique on ne rate jamais un pièce d'art! Pas contente? On peut toujours superposer des couches jusqu'à on est contente. On s'est bien amusé cette après-midi.
And that's what we did this afternoon when I invited my young neighbour girl over to come and play. I showed her how to use a gelli plate and taught her the most important lesson: this technique never fails! When you're not happy with a print you can layer over it until you are happy. We had a whale of a time!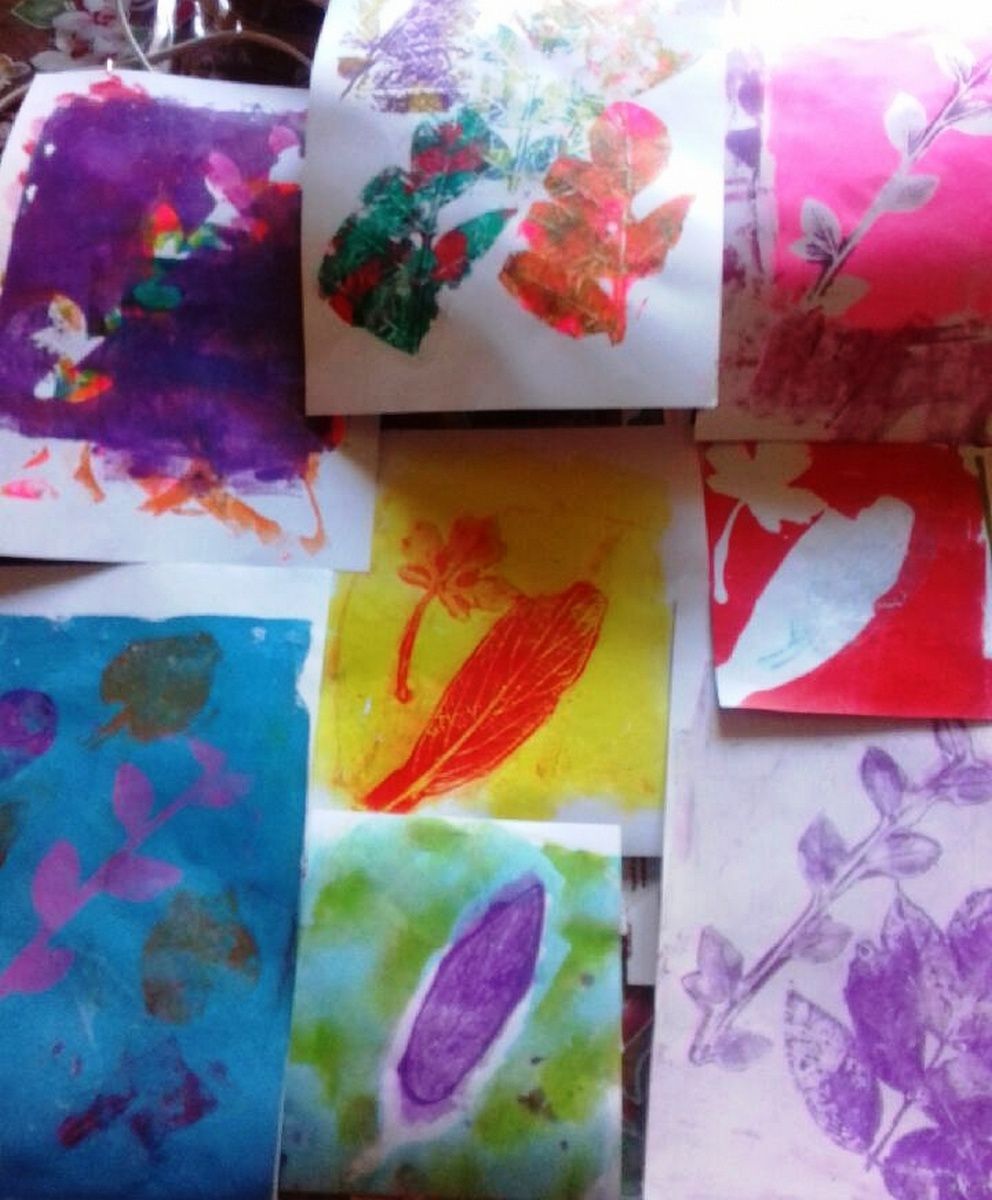 J'avais oublié de faire des photos de ses résultats. Elle m'a envoyé la photo mais elle ne donne pas assez justice, notamment aux empreintes gauche et droite en bas... elles étaient sublimes! Au milieu sa toute première; une réussite!
I had forgotten to take photos of her prints. Luckily she sent me a photo afterwards, but really the photo, nice as it is, doesn't do justice to the wondeful prints she made. Especially the prints on the left and the right were really lovely. And the one in the middle is her very first print ever.... isn't that great?!
Bien sûr j'ai joué le jeu aussi et fait mes empreintes également en montrant quelques astuces en route.
Of course I joined in as well and printed happily next to her showing some tricks here and there.
Ce soir j'ai pris mes meilleurs empreintes pour en faire des cartes. J'ai ajouté un mot ou une petit phrase pour les donner un titre.
This evening I took my best ones and turned them into cards. I added a word or phrase to give them a title.