14 janvier 2016
4
14
/

01
/

janvier
/

2016
23:58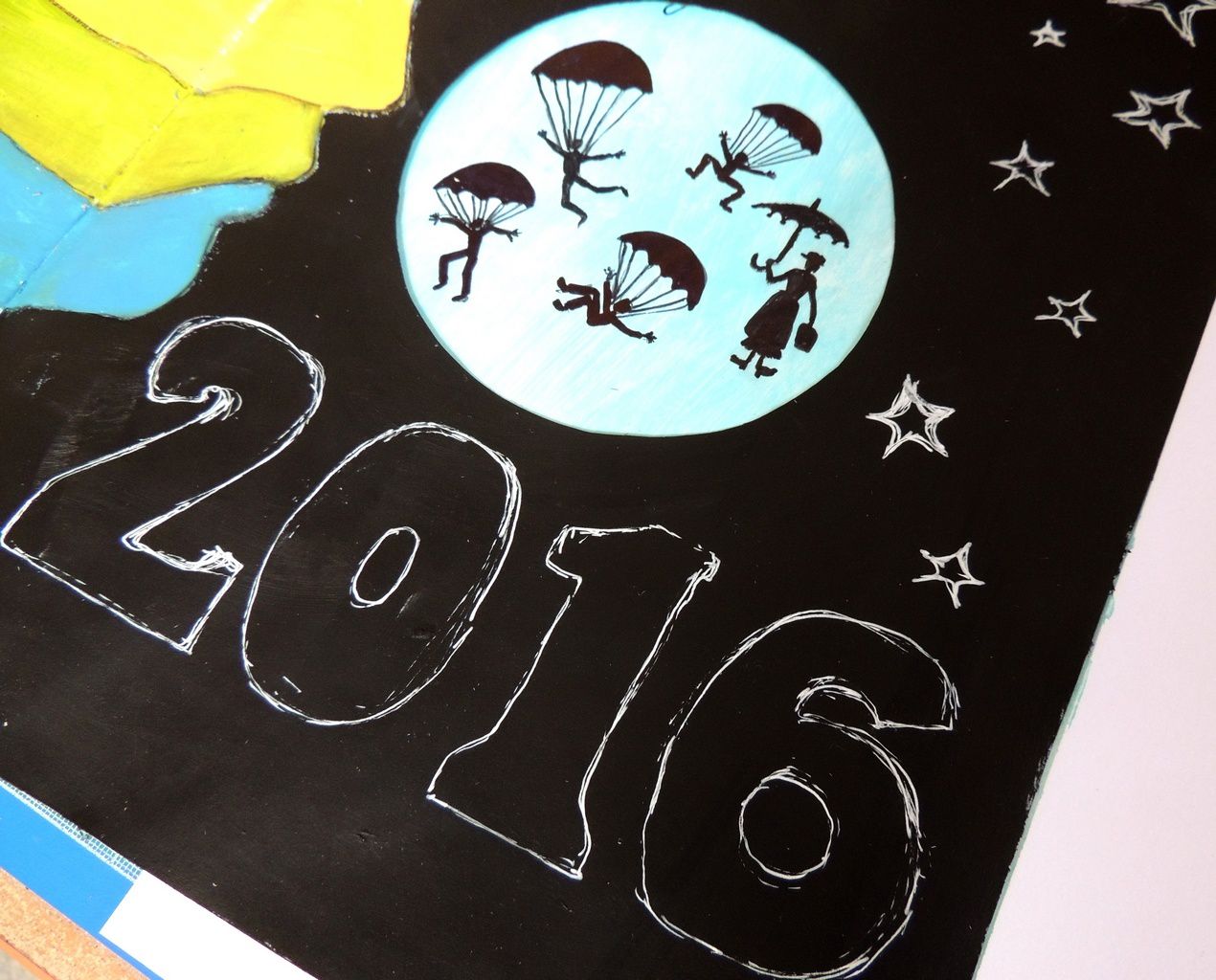 J'ai commencé un nouveau journal. Cette année je suis toujours The Documented Life Project, mais je préfère de continuer dans un journal et ne pas utiliser un classeur. Je me connais: si je devrais créer sur des pages individuelles elles seront vite perdues ou abandonnées.
It's about time to crack open that new journal lying on my desk. A new journal already bound and not, as suggested the Documented Life Project, in a binder, a planner. The structure of a planner doesn't go with my way of expressing myself in this journal.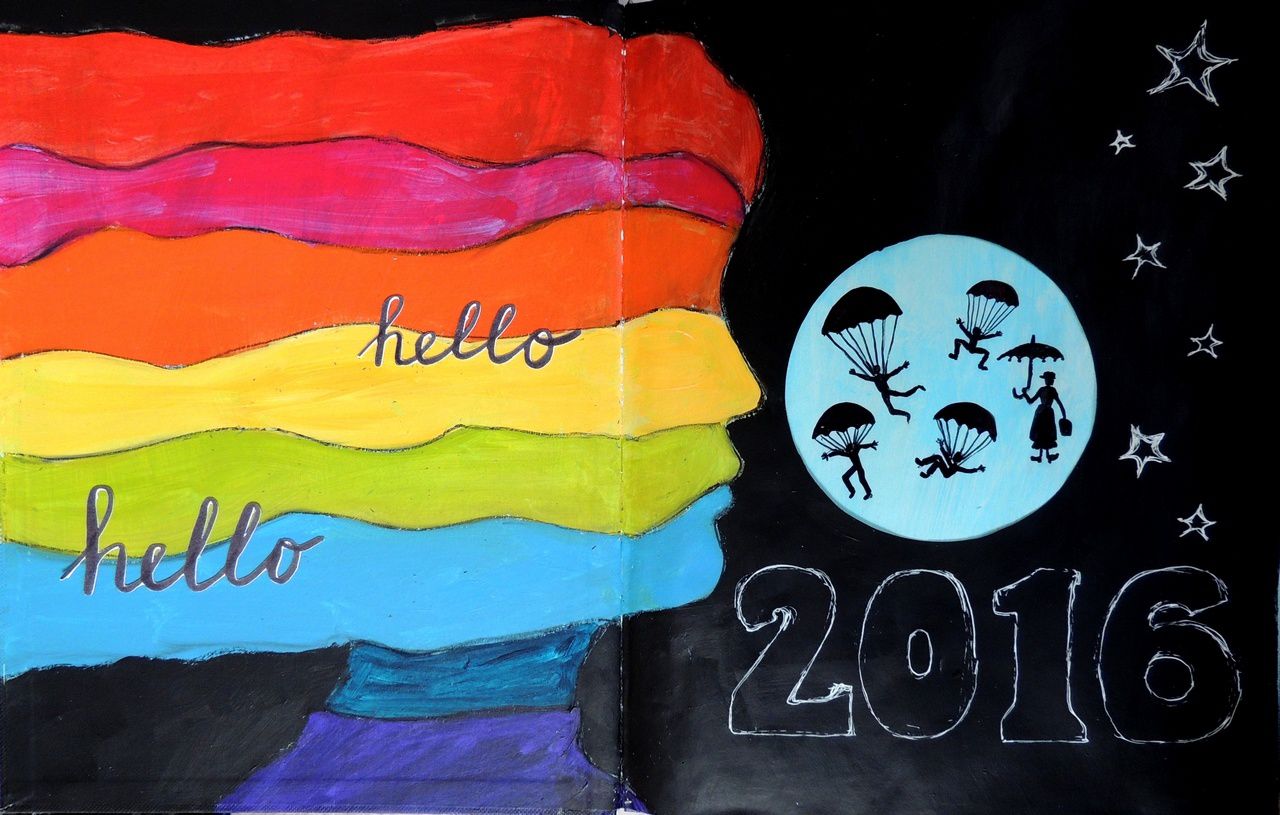 Toutes les couleurs de l'arc en ciel cette année! J'utiliserai toute la boîte de crayons!
All the colours of the rainbow this year; I'm not going to let one colour unused in its box!
Un trou dans une page, vu sur le ciel....qu'est ce qu'il se passe, vite on a envie de tourner cette page et de rentrer dans le journal de 2016.
A hole to peep through and wondering what this might mean....hurry to turn the page of this 2016 journal.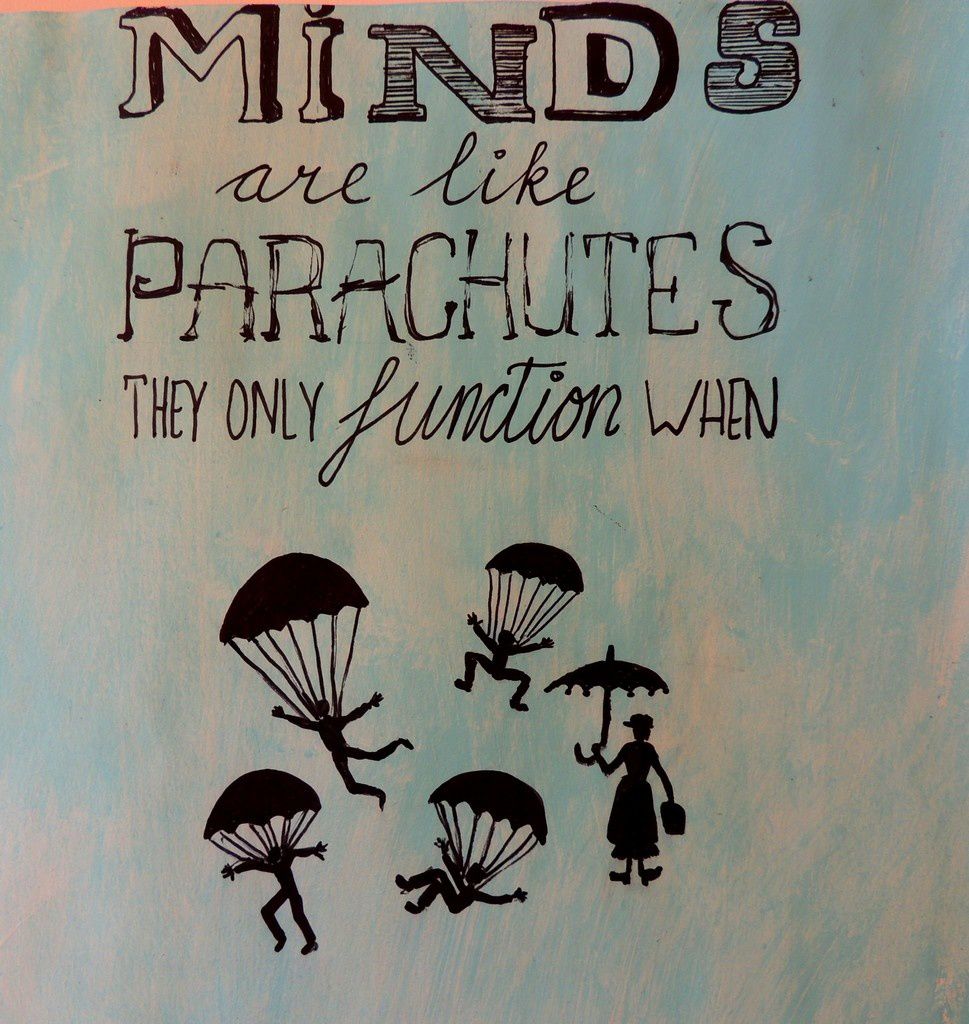 C'est une image pour illustrer une citation...devinez- vous le mot manquant?
Its a picture to illustrate a quote....can you guess the missing word?
C'est mon mot pour cette année, le mot qui me guidera et inspirera.....un mot qui laisse beaucoup de place et ne me coince pas. Avec ce mot je ne fais pas des promesses que je tiendrai pas....ce mot je peux interpréter comme je veux....un mot tout léger sans prétence. Et peut être, si le vent est de la bonne direction, Mary Poppins viendra me donner un coup de main.....pour réaliser enfin les rangements bien nécessaires ....
A word for 2016, my "one little word" to guide me through the year, its not a spectacular word but it leaves all the possibilities open, that's what I need....because I'm still on my way to 'become'...
This word doesn't make me set new year's resolutions that I won't follow up, it doesn't give me goals that will be too far stretched, promises I don't keep... And who knows: if the wind may be right it will bring me Mary Poppins to give me a hand tidying up the studio at last....of course with a spoonful of sugar!
A gauche une page de doodling, en utilisant toutes les couleurs mais mélangées.
J'ai 'scanNcut le mot "hello" pour la première page et sur la deuxième page j'ai écrit les parties manquantes.
On the left, just some shapes for the fun of drawing them, light as the quote. I used all the colours of the first page, but mixed together. "Hello" on the first page was scanNcut and I continued the missing parts in writing on the following page.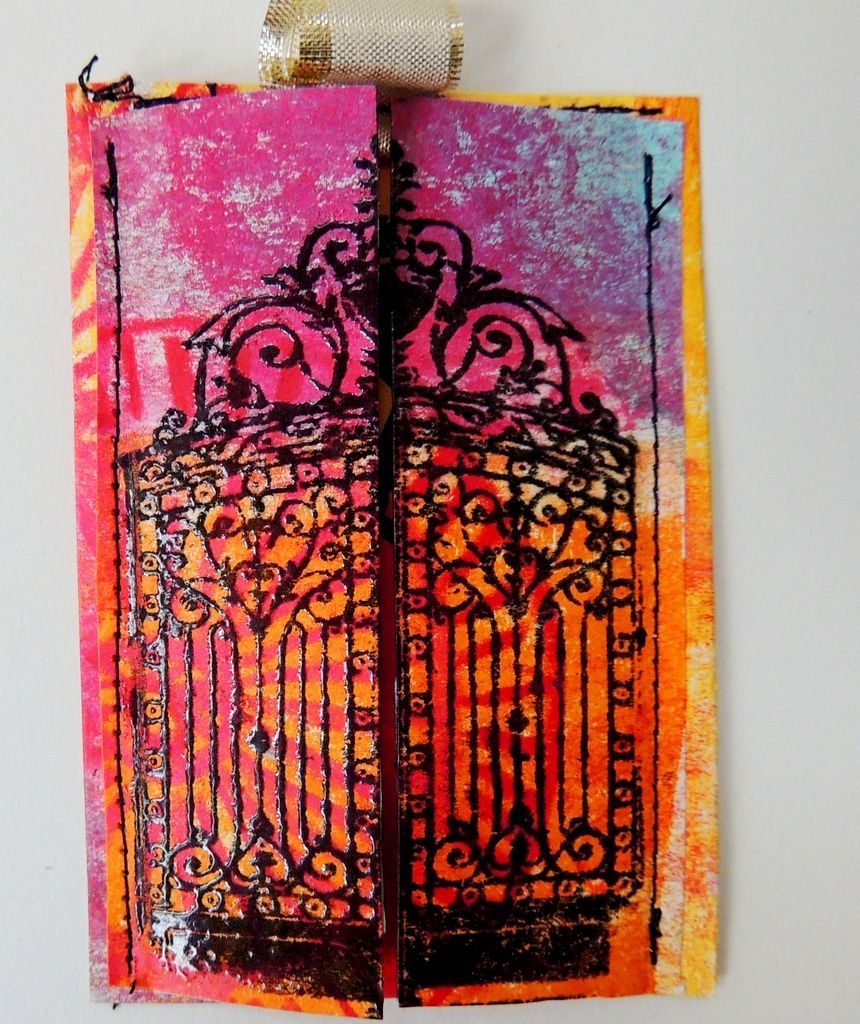 Le "Documented Life Project" proposait d'utiliser une citation et de la couvrir avec de la peinture sauf un mot. Je vais où avec ce portail fermé? Ouvrez le!
The DLP suggested to choose a quote and to paint all over it but to leave one word visible. Nothing to be seen yet....Open the gate!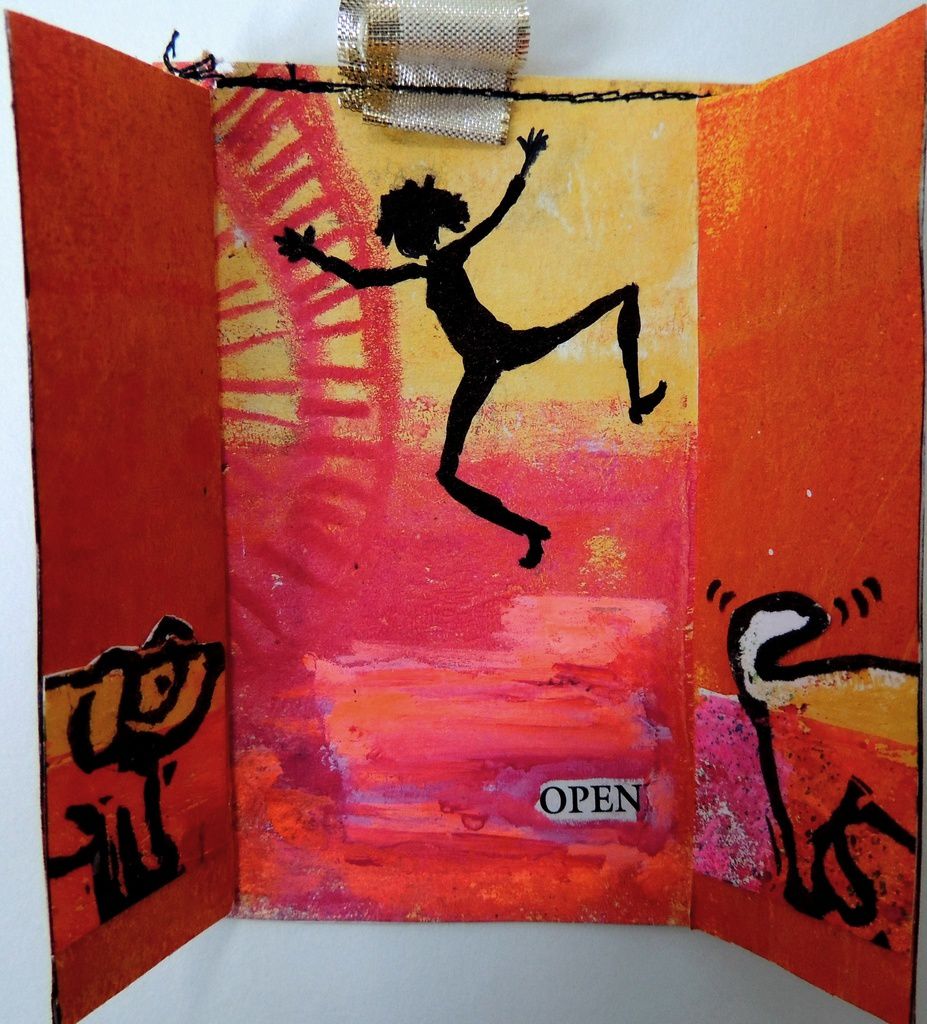 Ouvert, vous ne voyez que le mot "open"...c'est une autre citation qui inspire bien. Allez une autre devinette!
Open, it reveals the word 'open' as well; it's from another inspiring quote.....let's play 'guess' again!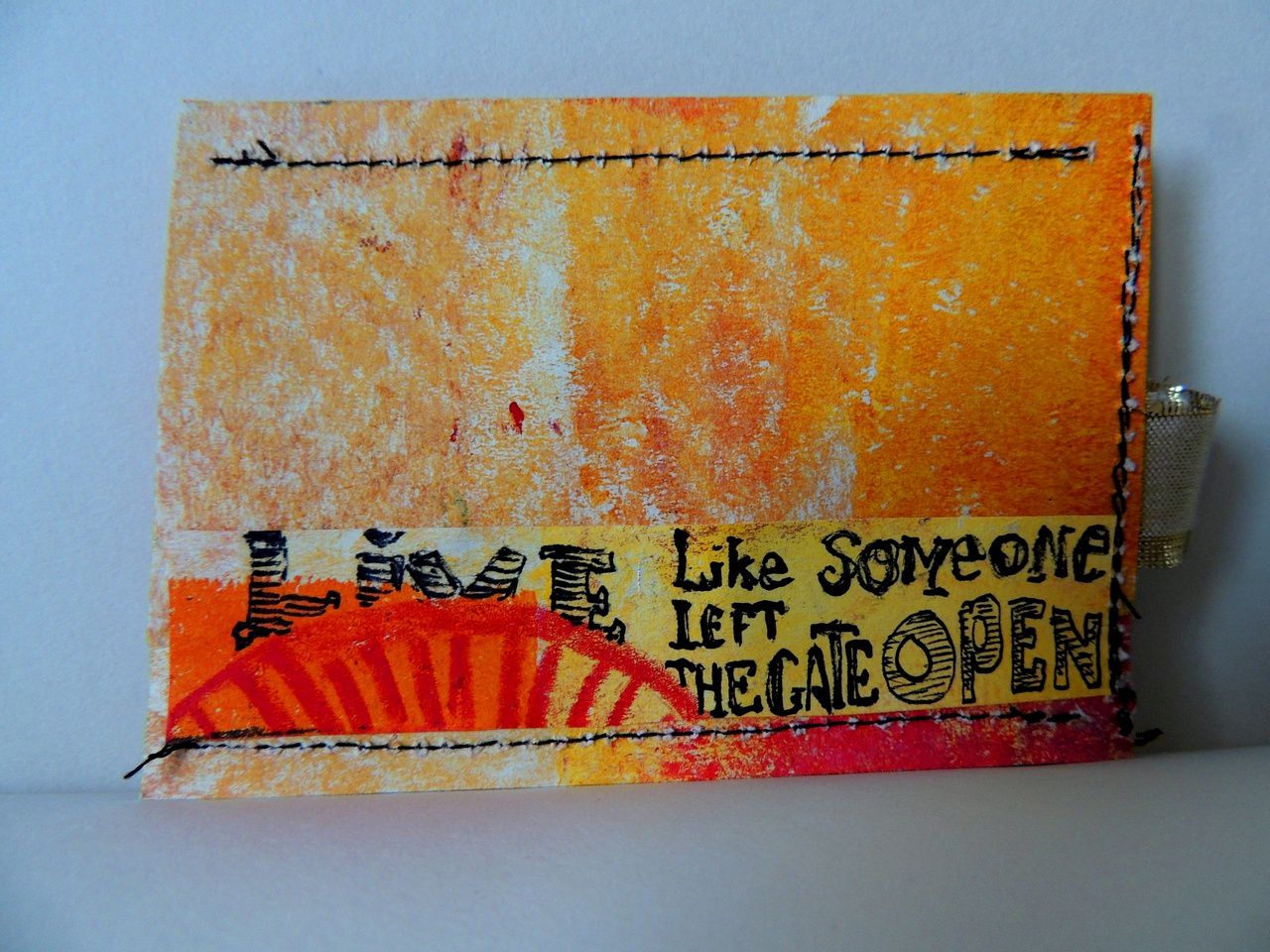 Je ne vous laisse pas trop longtemps en suspense: voilà la citation: "vivez comme quelqu'un laisse le portail ouvert".... Elle se trouve sur le dos de la carte, grand comme un ATC (Artist Trading Card 89 x 64 mm) mais dans le projet elle s'appelle PAC: Pocket Art Card.
I can't leave you in suspense for too long: here's the quote on the back of the PAC. "live like someone left the gate open".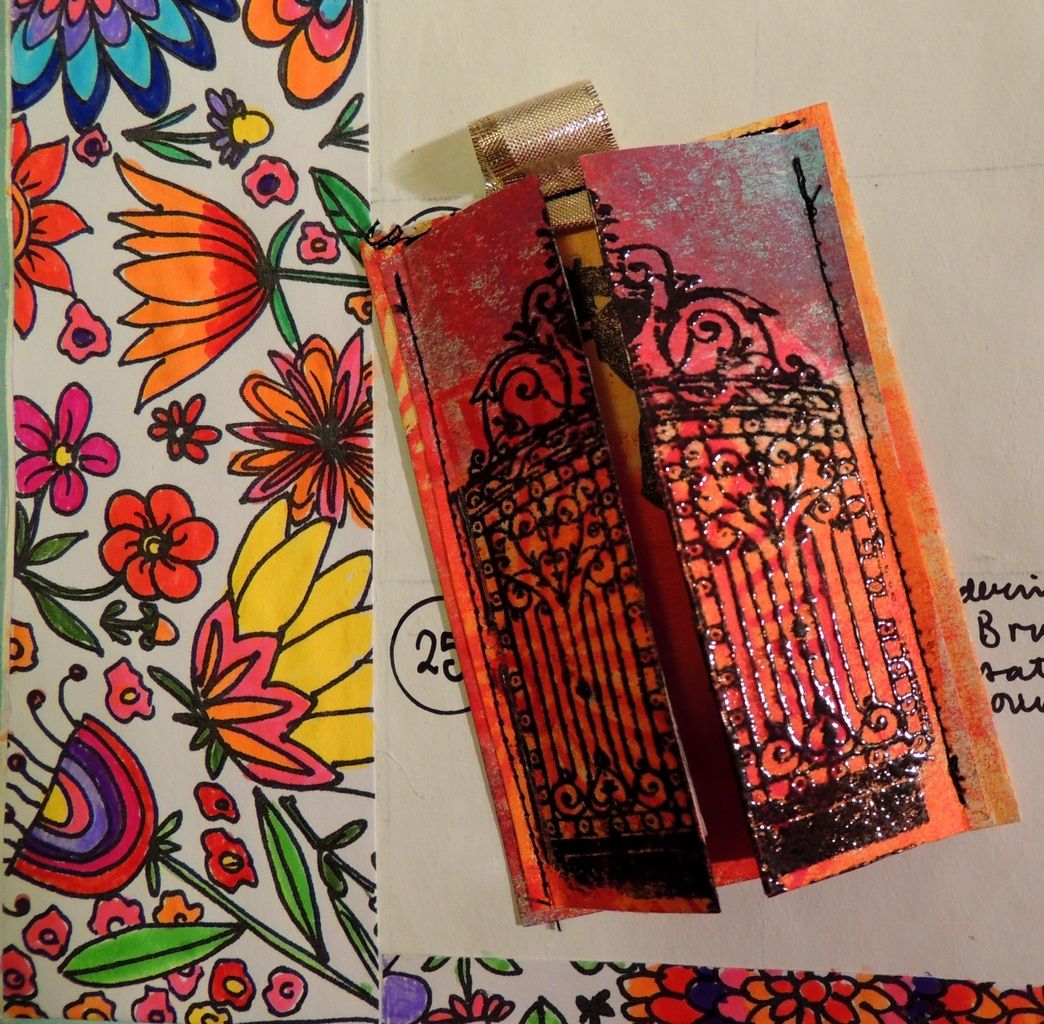 La carte rentre bien sur la page avec le calendrier de Janvier. De cette page je vous parle la prochaine fois.
The card fits well on the calendar page 'January', but I will tell you about that one next time.